Paralysis and ACL injury rehabilitation specialist providing:
Treatment, cure and prevention for 99% of all animal movement problems
Immediate results you can see
Deep insight into your animal's health with over 45 years experience
Safety and convenience with home visits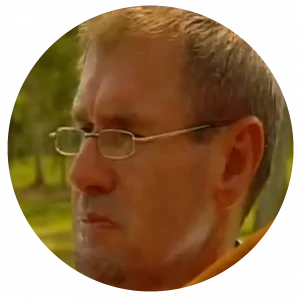 The first ever established animal chiropractor in Australia, K9DogMan founder John Jamieson has been getting paralysed animals back on their feet and moving normally again for more than 45 years.
With a unique holistic approach to animal medicine John is naturally gifted and empathic healer delivering the highest standard of chiropractic drastically improving the quality and duration of animal's lives.
TORN ACL HEALED WITHOUT SURGERY
K9DogMan fixed Boba's cruciate ligament injury saving his owner $7000 in surgery costs.

TORN ACL HEALED WITHOUT SURGERY
K9DogMan fixed Boba's cruciate ligament injury saving his owner $7000 in surgery costs.

pARALYSED DOG WALKS AGAIN
After $18,000 in vet bills and a terminal diagnosis Kato was treated by K9DogMan and made a full recovery.
Lifting your injured pet in and out of your car can cause more damage and undo the work of treatments, particularly with cases of severe muscle wastage from being out of alignment for some time. Mobile visits mean:
No unnecessary moving of your pet
Pets are more relaxed being treated in their home environment
Your pet will benefit more being able to rest immediately after a treatment
Your pet's living environment can be assessed so you can be provided the best possible advice on any changes you need to consider so your pet can stay in alignment after a treatment
Your pet's optimum health and well-being means treating your pet, not just your pet's pain and symptoms. Chiropractic is the only form of medicine capable of directly addressing the causes of movement problems and injuries such as ACL (anterior cruciate ligament) tears in dogs. To guarantee the animals we treat receive the very highest standard in chiropractic we utilize a variety of therapies to compliment treatments ensuring the smoothest adjustments and most rapid and lasting results possible. Therapies include:
Magnetic induction therapy
Laser accupuncture
Ultrasonic therapy
Microtiser therapy
Phototherapy
Reiki
During visits we will share with you essential wisdom consulting on key aspects of your animal's life, what are the most likely causes of your animal's problems, and changes you can make in their living environment to help bring them back to full health and happiness and keep them that way so they can live a long pain free and fulfilling life.
It's our vision for all pet and animal owners to have access to the best possible information and services in order to better understand and care for their animals.
Discover the signs and symptoms to watch out for in your animals from as early as 8 weeks of age so you can identify issues and avoid health problems later in life with early preventative chiropractic intervention.
EUTHANASIA IS NOT THE ONLY CHOICE
Where veterinary surgery has failed and pets have been declared terminal John Jamieson has saved animals from euthanasia restoring full health and vitality to animals whom even other animal chiropractors had given up on.
Regardless of verdicts and otherwise hopeless situations John has been getting paralysed animals on their feet and running again for his entire lifelong career with decades worth of proven success and extensive client testimony backing it up.
It's no miracle. John simply has a deep knowledge and masterful understanding of animal biomechanics that only comes with a lifetime of working in the field of holistic animal medicine.
Unfortunately most clients don't find us until every other option has been exhausted and K9DogMan is their final hope before putting down their pets. This is because the kind of life saving treatments we offer are not well known in the veterinary industry or even to other animal chiropractors.
Particularly in dogs we see the same misdiagnosis and exorbitant costs for failed treatments time and again. Whether it's 'suspected' meningitis, arthritis, hip dysplasia, old age, even torn ACLs can be misdiagnosed, but most often the root cause of symptoms is exacerbation of compressed nerves due to poor chiropractic alignment which without proper treatment will progressively worsen over time.
Discover the causes and early warning signs of chiropractic misalignment.
Our unique treatments can help a variety of different animals including: 
Cattle and other livestock
Possums and other wildlife
Rabbits, Alpacas, and more..
Is your area not showing up in the service zone? Get in touch anyway and we'll see if we can come to an arrangement. Also stay tuned for K9DogMan's new Brisbane clinic planned for opening in early 2023.
Please note: The service area map is only a guide. K9DogMan does not travel to any locations that cannot be accessed by road.
Please note: The service area map is only a guide. K9DogMan does not travel to any locations that cannot be accessed by road.
COMMUNITY STANDS BEHIND K9DOGMAN
Our pets are just like humans, if we could cure ourselves without the risks of surgery we certainly would, so why can't our canines have the same choice. We cannot express how pleased we are with the results Doc Jamieson has produced with our dog and it would be a crime not to have this opportunity for all canines to experience.
Hard to think that we were at a very difficult stage where we could not let Boss live in the pain that he was in and putting him to sleep was becoming an option. We cannot thank you enough Doc for the tireless work and effort that you put in, Boss can now live out a pain free and happy life.
Our best mate Como (bull mastiff cross) has been given her quality of life back which in turn has given us many more happy years together!!! All thanks to the tireless work carried out by Doc Jamieson!!!… A true animal lover and innovator in our books!!
I can't thank Doc enough, he is an amazing man and has healing hands. It is a pleasure to say I have met him and know him. His love is for animals, he's not in it for the money and doesn't give you the bullshit the vets give you. He knows you by name, not just a number on his books.
Having spent a small fortune on various pills and anti-biotics, plus veterinary visits for suspected 'meningitis', Kath and I cannot thank you enough for having 'Beau', back to his happy, bouncing self and all within 4 treatments.
If your animal is showing signs of restricted movement,
lameness
, or any change in behaviour that has you concerned get in touch today.
Cleaning Up Greyhound Racing Industry Cover-Ups & Corruption